Total Enclosure Systems
Current environmental constraints often necessitate the requirement to exclude feral birds and control airborne litter and waste on open landfill and restoration sites. This frequently dictates that the site be totally encapsulated in netting and be designed to cope with the natural effects of wind, snow, and ice.
Huck Tek offer bespoke designs supplied and installed working in conjunction with reputable structural engineers to produce operational enclosures that facilitate phased tipping to final restoration levels under a complete net canopy. Working with site owners/operators and consultants we can provide the complete installation of cables and netting and the erection of complete steel structural support systems involving multiple grid-pattern cabling with masts, towers, and ground anchors.
---
Marquee Cable Structures
High-level cable grid structures that use steel perimeter towers and internal masts to support a complete landfill cover net that allows the operator to tip to the planned restoration level in one single operation without the need to move or lift the netting system; typically 12-50m high.
Where the restriction or encapsulation requirements involve the fill of a deep quarry type excavation, the Marquee Systems may be simplified by the use of Single Span Cable Structures. In these systems, parallel cables are positioned across the cell hung from masts at opposite sides of the cell. This structure is used to carry a pre-structured net system on a designed grid plan, which is assembled and launched across the quarry. The grid system is designed to fail-safe under excessive loading to protect the main structures integrity.
GeoNet™ Portable Enclosures
The "Somernet" style tow able compound system is in use on many sites. Huck Tek supply replacement netting and components to maintain your existing system. We can manufacture and supply a complete new system, based on roller or skid mounted frames. Any damage repairs, re-cabling, re-netting can be carried out by Huck Tek engineers.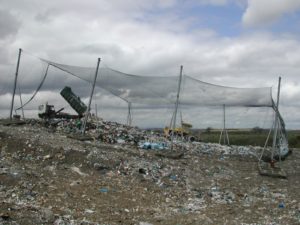 Heavy Duty Tripod Enclosures
Improvements and revisions based upon the original Huck Heavy Duty Tripod (HDT) system to provide a complete, roofed and netted tipping enclosure of specified size with suitable base anchorage and load backstays. The HDT system is easily pre-spaced in the dimensions you require.
Side nets may be specified to run within the tripod line or the net can be pre-made to suspend from roof cables to hang inside the line of tripods. Common enclosure heights are 6-7m. 10m tripods are possible (subject to suitable ground fixing or sufficient base loading).
Huck Tek is able to supply, erect, dismantle and re-site HDT enclosures and has a lifting frame available to move tripods about your site without the need to wholly dismantle an erect tripod.