Helipad Netting
Helipad netting helps prevent personnel from falling if they inadvertently step over the edge of the landing pad when disorientated by the helicopter rotor blast.orientated by the helicopter rotor blast.
Polymer Helipad Netting
On some buildings, polymer netting is used, supported in a framework to provide no-step protection at the raised helipad edge.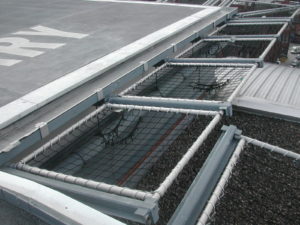 Steel Helipad Netting
As an alternative to polymer netting, pad overhangs may be protected in the same manner with galvanized or stainless steel netting such as Huck "Dralo" or Huck-Torimex "X-Tor". Metal nets may lack the energy absorption in comparison to polymer netting, but they provide a stronger solution offering reduced maintenance and increased longevity.